On Tuesday 9th November, V12VF's Head of Partnerships, Tamara Brown and Regional Account Manager, Sarah Devine had a mellow time celebrating Shoreham's 60th birthday in groovy 60s style.
They were greeted at Shoreham's Auction Hall in Lancing by Alex Wright, Managing Director and Michael Simmons, Operations Director, who had dressed to impress for the day's sale.
The 1960s are called the decade which changed a nation. Filled with political and social unrest, it was also the decade which produced some of the best music to ever hit the airwaves. The 60's remind us of The Beatles, The Rolling Stones and The Who to name just a few of the fantastic groups from that era.

Following a successful partnership launch with V12VF in January 2021, together we have helped our dealers to source, fund and finance vehicles faster, and more efficiently, Shoreham are now celebrating their 60th Birthday in 60's style. They're spreading peace, love and £10 buyer fees (+VAT) to dealers who purchase vehicles at their auctions this week!
There is no better time than now to take advantage of the opportunity to utilise V12's stock funding facility, together with Shoreham's £10 buyers fee and also V12VF's other benefits to fund 100% of the hammer price including auction fees; delivery charges; and refurbishment costs.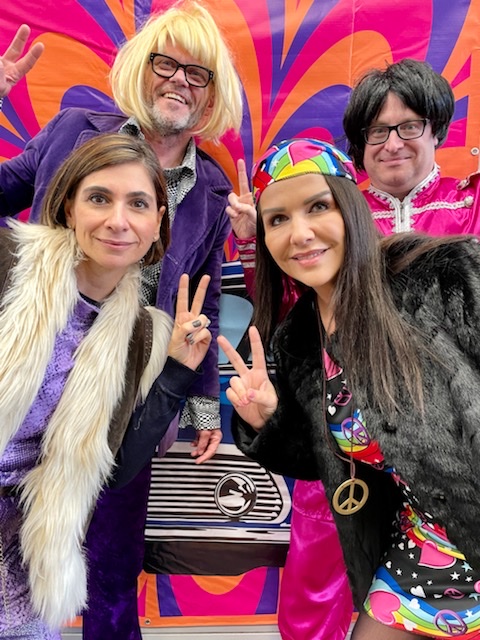 Alex Wright (Managing Director - Shoreham) top left, Michael Simmons (Operations Director -Shoreham) top right, Tamara Brown (Head of Partnerships - V12VF) bottom left, Sarah Devine (Regional Account Manager - V12VF) bottom right.
Alex Wright, Managing Director of Shoreham Vehicle Auctions said "Our 60's theme birthday celebration week is about giving back to our buyers with a £10 buyer fee. This week we have offered in excess of 800 vehicles. We've seen over 400 buyers log in online and over 250 buyers attend in the hall.  A massive thank you from all the team here to our loyal existing and new customers"
Tamara Brown, Head of Partnerships for V12VF said "There was a fantastic atmosphere today at Shoreham Vehicle Auctions, Alex, Michael and all the team made such an effort with their fancy dress to bring to life the 60's for their buyers both in the hall and online. Sarah and I couldn't help but get involved. "
We'd like to wish Shoreham Vehicle Auctions a very happy birthday and thank them for their hospitality this week.
If you're interested in purchasing vehicles from Shoreham, take a look at their auction schedule here.
If you'd like to know more about V12VF's stock funding product, click the button below.