Helping dealers buy and sell vehicles, more profitably, more often
 V12 Vehicle Finance is partnering with the award-winning Click Dealer, a performance partner for dealerships with over 15 years' experience and a portfolio of seamlessly integrated products and services, including websites, DMS, stock management and digital marketing.
With over 1,400 independent and franchise dealership clients, Click Dealer is constantly striving to increase profitability for its dealers and give them more hours in their day through a combination of leading tech, industry expertise and a tremendous appetite to keep innovating and driving the future of automotive tech.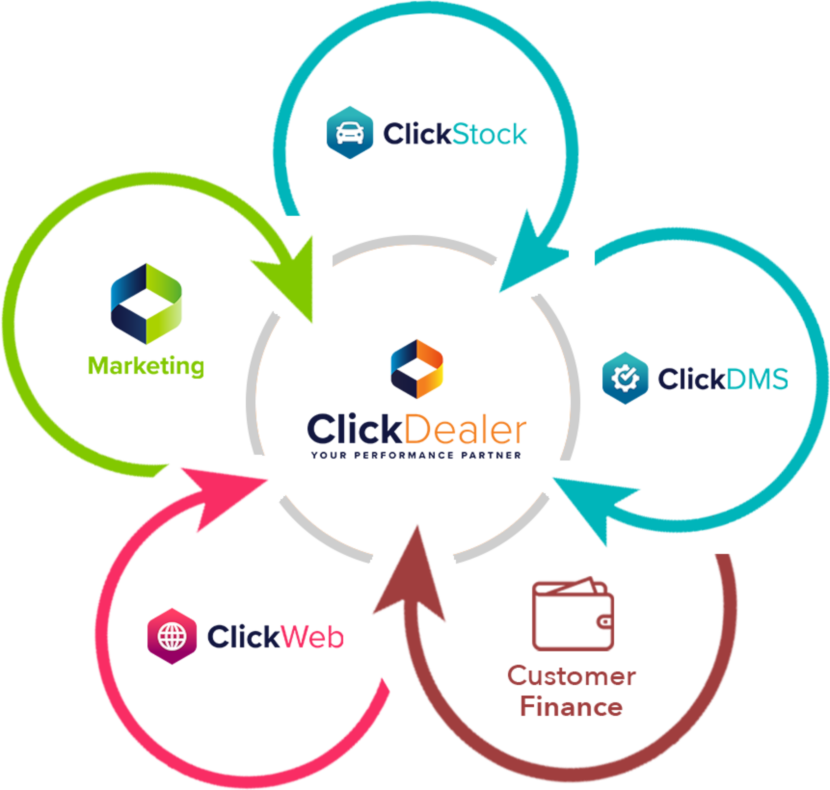 If you would like further information about our products or partners, please contact us by clicking the button below and one of our account managers will be happy to speak to you.
Within Click Dealer's web platform, you can use our Moneyway API to finance your Near-Prime business with a click of a button, giving you simplicity, speed and assurance all in one place
Why choose Moneyway for your Near Prime business?
Here are seven reasons:
Eight tiers of Near-Prime rates matched to your customers' circumstances
Soft search facility that won't show on your customers' credit profile until pay-out
Finance deals accepted and paid out in less than one hour
Competitive rates and commissions available
No document fees
Zero commission debit back policy
We accept retired customers and those receiving state benefits
With our frictionless integration, we're helping you to be more efficient and effective by reducing the number of different platforms you interact with.
In light of government guidance regarding COVID-19, we have made the decision to stop taking any new applications for Customer Vehicle Finance. We will continue to keep you updated, as circumstances change.
The ClickStock platform helps you find the best vehicles for your business at the right price, whilst saving time and increasing profitability.
ClickStock means you can shop in one place for used vehicles in participating auctions, with pre-sale and 'buy it now' stock visible at all times.
Why choose ClickStock?
You can be notified when stock that matches your buying profile becomes available, without having to search for it, saving you time
All vehicles purchased through ClickStock will automatically land in your ClickDMS stock list, making it easy to find your vehicles
Our pricing calculator works out the maximum a dealer should pay for a vehicle by taking into account retail price, price position, unit costs, unit fees and unit margin; so you invest wisely
Vehicles can be added to a shortlist so that you can place future bids, to help you get the vehicles you want
Full appraisal of vehicle damage with photos and NAMA grade is included with all vehicles, so that you know exactly what you're buying
One facility that delivers everything you need to make your business more efficient
How do I get started?
REGISTER YOUR INTEREST FOR STOCK FUNDING THROUGH CLICK DEALER
Click Dealer's web platform is designed with a deep understanding of how automotive consumers use websites and is based on years of research from studying user patterns to increase engagement.
Click's team of web design experts regularly update the platform to overcome browser frustrations so that your customers can find the right vehicle quickly and easily, and contact you.
The modules have been crafted to address what's important to website visitors, which in turn results in enhanced conversion, reduced bounce rates, faster page speeds, more leads and higher profitability.
Benefits of Click's Web Platform
Proven to enhance conversion
New, intuitive search functionality
Increases time users spend on website
Improved usability enhancements
Significantly reduces bounce rates
High speed page loading
Designed with consideration for users' emotions and actions
Professionally designed UX experience
Similar layout to leading e-commerce websites
To find out more, visit the Click website