Helping every dealer buy and sell more vehicles, more profitably, more often.  A true performance partner.
V12 Vehicle Finance is partnering with the award-winning Click Dealer. They have over 20 years' experience in providing digital solutions to dealerships – they have a portfolio of seamlessly integrated products and services, including websites, DMS, stock management, online reservations, and digital marketing. All your digital tools, from one supplier.
Click Dealer works with over 1,600 independent dealerships across the UK. Their solutions give dealerships, like yours, a great online platform to help generate leads and sales, combined with a time saving dealer management system to streamline processes and improve efficiency.
They integrate with third party solutions, such as V12 Vehicle Finance's stock funding platform, so dealerships only need to use one system – making it your one-stop-shop.
ClickWeb – your online showroom. A high performance, modern website with built in technical SEO.  Helping you be more visible online and generate leads.
ClickEngage – your 24/7 online sales tool. Convert prospects into customers even when your dealership is closed.  Let your customers reserve their next vehicle with you any time of day or night.
ClickDMS – your administrative solution. Save time and improve efficiency with a dealer management system which can streamline your administrative processes.  Helps with Making Tax Digital, integration with third parties, security for your data, invoicing and sales.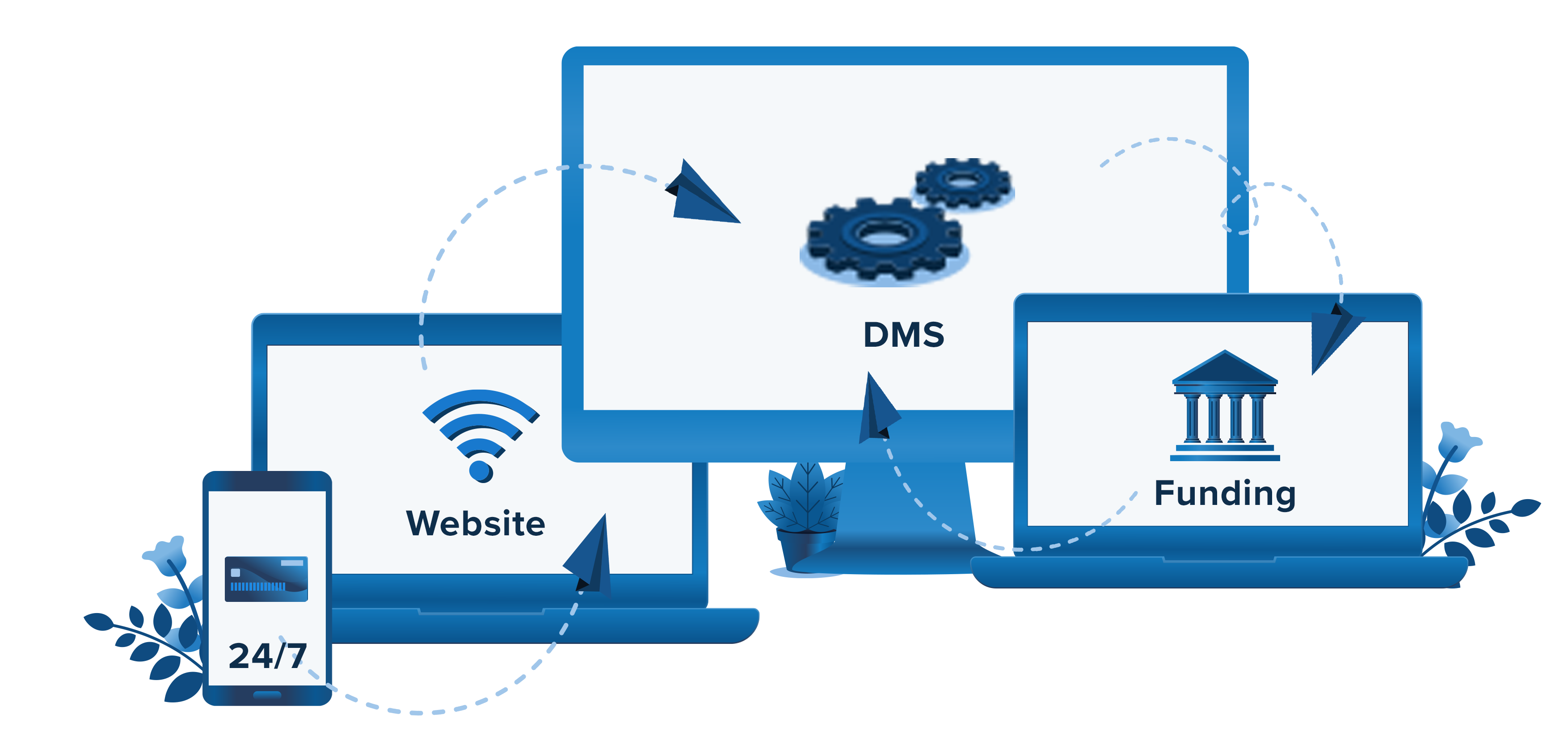 Your integrated stock funding solution.
Are you constantly switching between systems and rekeying information when funding a vehicle? 
With Click Dealer and V12 Vehicle Finance's partnership, you can manage your stocking plan from within your DMS.  You can see an overview of your available balance, fund a vehicle, and auto-settle when sold – all without switching systems or rekeying data.
Simplify your processes - an overview of all your funding lines, including balance and availability, shown within your DMS.
Be more efficient - no need to rekey vehicle and funding info across multiple systems
Your one-stop-shop digital solution.
Click Dealer provide a full range of digital services and solutions to your dealership.

Your online showroom to help you generate leads and sales
Designed with your customer in mind
Built in technical SEO features for good performance
Feeds to advertising platforms
Manage your stock from one place
Image promo banners without the need for fancy tools
In-house web change team to quickly update your site
Add on ClickEngage for a 24/7 online sales journey.  Let customers reserve their next vehicle any time of day or night – don't miss out on sales.

Your administrative support tool to save time and improve efficiency
Easy lead management
Manage your expenses and support with Making Tax Digital
Integration with accountancy platforms
Sales and invoicing tools
No limit on amount of users
Dealer insights and KPI reporting

Integration with V12 Vehicle Finance
View your stock funding plan
Easily see available balance and add vehicles onto your plan
Auto-settle when a vehicle is sold
No more rekeying of data or switching between systems
Combine these solutions with Click Dealer's award-winning digital marketing services, finance integration, and accelerator pack tools to boost your dealership's performance.
With in-house support from their Customer Care team as well as developers, product trainers, and sales support teams – you'll have peace of mind knowing you have full service and support on hand when you need it.
Helping every dealer buy and sell more vehicles, more profitably, more often. A true performance partner.
Book your free demo with Click Dealer to see how their solutions can help your dealership.