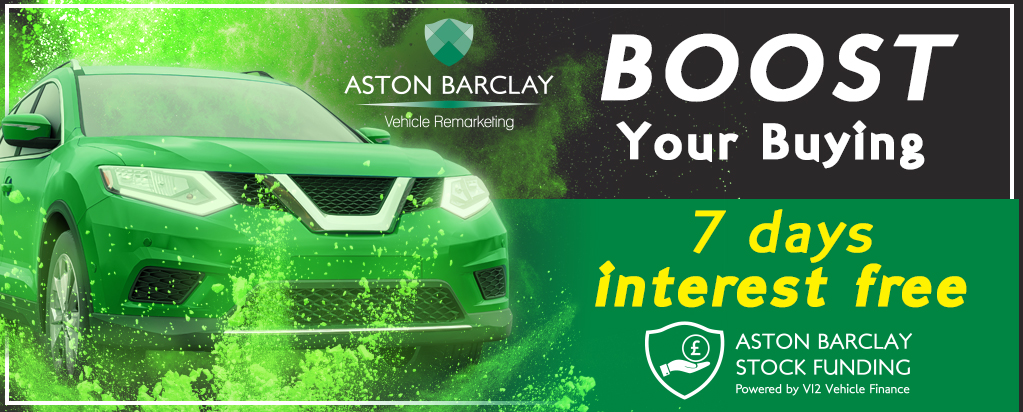 Aston Barclay Stock Funding, a facility that enables Limited, Incorporated or Public Listed companies to apply for stock funding. 0% interest charged for 7 days following which the interest rate charged (from day 8 onwards) will revert to the standard terms as set out in your stock funding agreement. This is a promotional rate only available on V12 Vehicle Finance standard ratecard terms, from 1st September, 2023. Finance for stock funding is provided by V12 Vehicle Finance, who are the lender and make all lending decisions.
Starting from 1st September 2023, Aston Barclay are offering 7 days interest free credit on vehicles from an Aston Barclay auction financed with V12 Vehicle Finance! To take part in this offer, you must operate as a Limited, incorporated or Publicly Listed company. Sole traders and private buyers do not qualify. To find out more, click the button below.
Register your interest for 7 days interest free finance with Aston Barclay

Dealers can source and fund stock across all of Aston Barclay's physical and online auctions, helping you to sell more cars and vans more often.
REGISTER YOUR INTEREST FOR A V12 VEHICLE FINANCE STOCK FUNDING FACILITY WITH ASTON BARCLAY
A single-funded value ceiling of £65,000 means you can get the stock you want on your forecourt.
Up to 120 days financing, easing the burden on your cashflow.
Simple payment – One single monthly Direct Debit for fees and interest charges. Simple payments with maximum transparency.
100% Funding – 100% of hammer price on cars and LCVs plus auction and delivery fees (including auction and refurbishment fees).
V12 Vehicle Finance portal – Stock funding platform that provides flexible stocking options
How do I get started?
Register your interest for stock funding through our form
If you do not have a Aston Barclay buyer account register here
A dedicated V12 Vehicle Finance Account Manager will be in contact to discuss your requirements
All V12VF stock funding facilities are subject to approval and will be confirmed by the V12 Vehicle Finance, Dealer Support Team.
Once your account is live, purchase your vehicles either online or physically at an Aston Barclay event.
Simply ask the Aston Barclay cash team to add your vehicles onto your V12VF funding account subject to your credit availability.
Register your interest for an Aston Barclay account
Aston Barclay is the UK's leading independent remarketing group and third largest vehicle auction house. It understands the importance automotive companies place on their used vehicle operations through the transition from retail to wholesale market place.
The group's suite of intuitive digital solutions combine with a network of state-of-the-art physical remarketing hubs to connect customers with vehicles and maximise returns at all stages of the used vehicle lifecycle.
Partnering with Aston Barclay enables V12 Vehicle Finance to provide a seamless used vehicle proposition and powerful hub that's unique to our industry.
Your Aston Barclay Stock Funding account can be used at any Aston Barclay centre or through any of their digital auctions.
Quote your Aston Barclay account number to fund the vehicle.
Funding will be confirmed (dependent on your account status) and we'll pay the invoice price to the auction house.
REGISTER YOUR INTEREST FOR A V12 VEHICLE FINANCE STOCK FUNDING FACILITY
---
Aston Barclay is the leading independent UK auction group with six physical auction sites in England that are supported by a range of digital auctions. Focussed on delivering a first-class service for buyers and vendors, Aston Barclay runs comprehensive physical and digital auctions each week for its dealer, fleet, manufacturer and leasing company vendors. And by using an advanced Buyer's App, dealers can locate, bid on and fund a used car directly from their smartphone or tablet. For more details, go to: www.AstonBarclay.net
Aston Barclay has centres in Chelmsford (Essex), Leeds (Yorkshire), Wakefield (West Yorkshire), Prees Heath (Shropshire), Westbury (Wiltshire) and Donington Park (East Midlands).
With a press of a button on the Aston Barclay Buyer's App, you can conveniently add vehicles to your Stock Funding plan. 
See Aston Barclay's Live Auction Schedule
With the e-Valuate vehicle appraisal App, you can accurately appraise incoming vehicles with valuations referenced from CAP used car data or a customer's own pricing matrix, as well as get a guaranteed purchase price from The Car Buying Group. All data captured, including inspection reports and images, is saved so that you can decide whether the vehicle is kept for retail or uploaded to a wholesale disposal channel.
See Aston Barclay's e-Valuate systems
To apply for stock funding, you must operate as a Limited or incorporated company. Sole traders and private buyers do not qualify.
Stock Funding Validation Terms
Not sure if your dealership is eligible for our stock funding product?
Take a look at our validation terms and see if you can start funding and selling more vehicles with V12 Vehicle Finance.