Jolene Flanagan will celebrate a 20 year anniversary in used-car sales and is a glowing testament to changing perceptions of the industry.
The 41 year-old, owns P McKenna Motors in Ulster, said that the snake oil salesman days of old are firmly in the past, with levels of respect and trust amongst customers at an all-time high. She runs the Draperstown business with her father Peter McKenna, who taught her how to service her first car when she was a teenager.
A recent survey by V12 Vehicle Finance revealed that 69% of customers felt most confident when buying a car from a franchised or independent dealer, with more than a quarter (26%) of motorists contacting a car dealer for advice on their next car purchase first, before speaking to anyone else. It's a far cry from the camel hair coats and trilby hat days of Arthur Daley, when perceptions of the profession were at such a low amongst the general public.
Jolene, who began her own journey into used-car sales in 2003, said: "The profession has definitely come a long way since the bad old days, when many motorists saw us as an obstacle to overcome rather than a source of support. I used to joke that my name was 'Arthur' once upon a time, as I felt the need to disarm customers. The profession had a poor reputation back then. "Once upon a time, it was expected that we'd back customers into a corner and relationships were difficult to forge, as you can imagine.
"Years ago, you had to be pushy because you had huge targets to hit, although this was never the type of salesperson I was, because it was never in my nature to be pushy. The industry has changed since then. My role is much more of a consultative one today, with motorists leaning on me for guidance at the latter stages of their purchase, having done much of the legwork online beforehand. "I help with price comparisons, discussing the right car for the right customer and even advising on future trends such as electric vehicles, and the best way to finance such choices."
Jolene said that around 70% of sales nowadays were as good as complete before the customer had ever met her. "The first time we have face-to-face interaction is often when they arrive to pick up the keys," she added. Jolene said that finance provider V12 Vehicle Finance was one company that supported her in offering more solutions and creating greater levels of transparency. V12VF provides a suite of flexible finance options to used car dealers and customers alike, which was one area where the industry has changed so much since she began in 2003.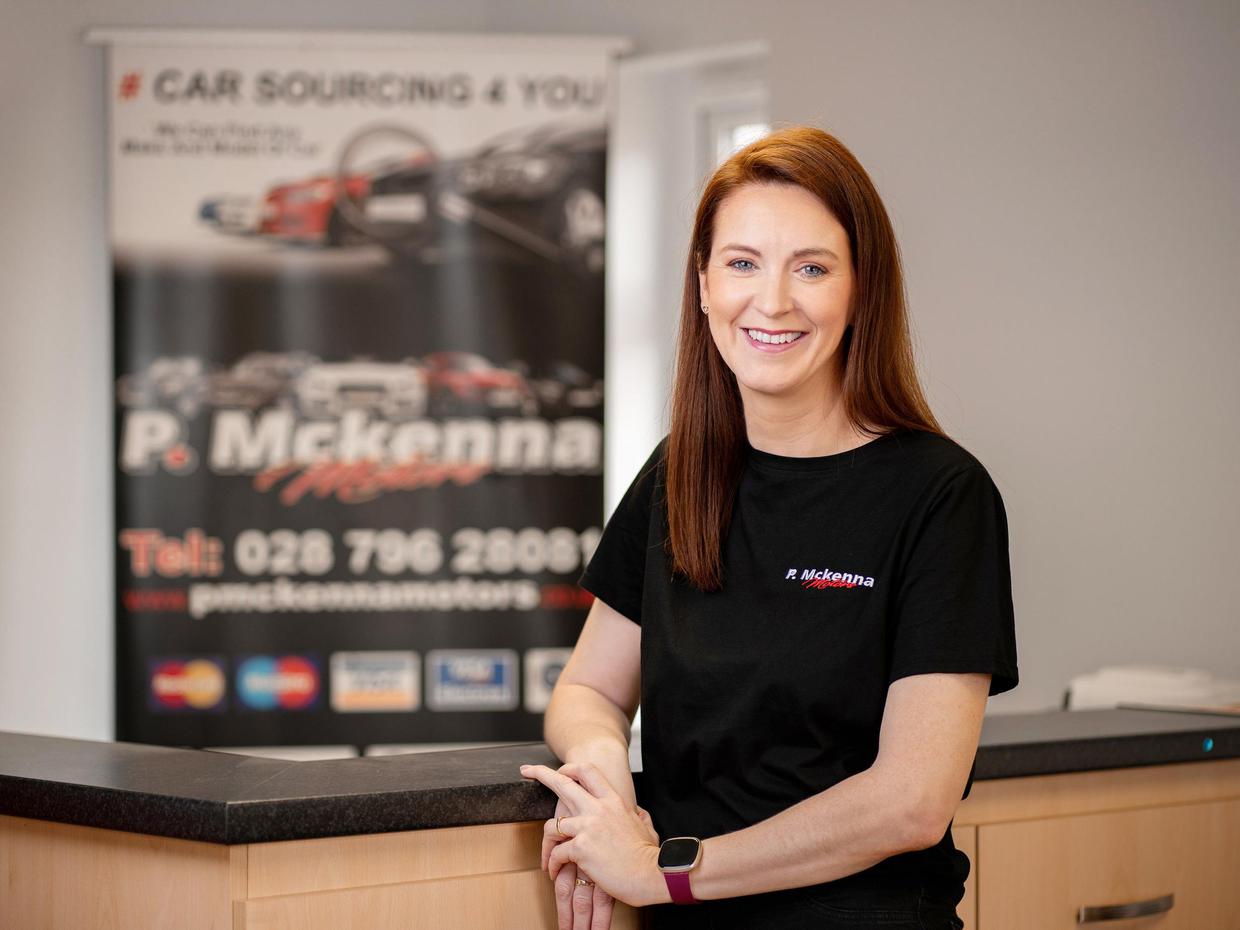 Jolene added: "There are so many finance packages available today, so the emphasis to find the right deal to suit motorists' budgets and monthly outgoings is almost as important as selling the car itself.
"We find that customers still want to drive premium models despite the cost of living challenges, and PCP finance packages are an increasingly popular choice as a result. There is no fear of losing money in residual value, little depreciation in value and full warranty cover. Customers have more flexibility through PCP, rather than owing money at the end of an agreement, which used to happen.
"V12 Vehicle Finance are a business partner to us, as they not only provide so many flexible finance packages, but their team is at the end of the phone when we need support. Their systems are easy to navigate and they are extremely helpful in providing advice and updates from the industry."
It's a family affair at P McKenna Motors, with her dad Peter still going strong in the repairs and servicing side of the business, and there's signs that a third generation could take over the reins in years to come.
Jolene has two children aged 13 and 10, both of whom are as mad about cars as she is. "They have grown up in the office with me and the absolutely love cars! I don't know where their futures will take them, but I'd be more than happy for them to forge a career in this industry, precisely because it has changed for the better over the years."