Ciara Raison Shortlisted for the Barbara Cox Woman of the Year Award!
Ciara is the Commercial Director for V12 Vehicle Finance (V12VF), the vehicle finance division of Secure Trust Bank, and was recently nominated for the prestigious Barbara Cox Woman of the Year Award, hosted by Cox Automotive. The award, launched in the UK in 2018 and named after the late business pioneer Barbara Cox, who was Owner and Director of Cox Enterprise, was set out to recognise women who share similar traits and accomplishments as its namesake, those being:
Embracing innovation and advances within the industry.
Inspires others through a commitment to great leadership.
Gives back to the community.
Having joined the automotive industry in 2014, Ciara's 'once-in-a-career-time' opportunity came when she joined Secure Trust Bank to form part of the Senior Leadership Team behind launching a new business: V12 Vehicle Finance. When discussing this move, she said 'When I was appointed in 2018, I was given a blank piece of paper and asked, 'If you could design the greatest vehicle finance business in the world, what would it look like?'.
Ciara is committed to building brands and partnerships, driving transformational change, and embracing advances and innovations within the industry, Ciara said 'One of the most defining moments of my career with V12VF was playing an integral role in the launch of our used car Prime Hire Purchase (HP) product and the soft launch of Personal Contract Purchase (PCP)'.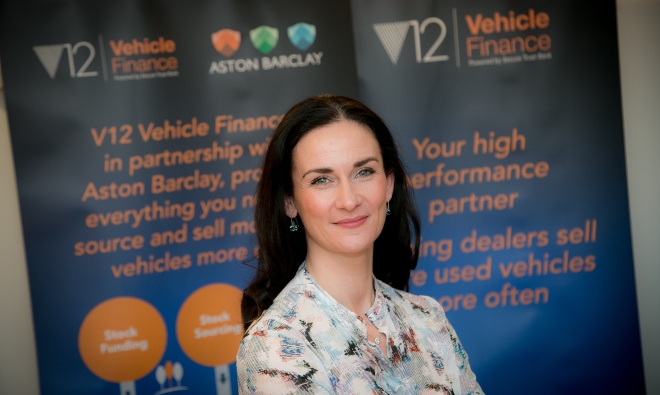 Ciara's commitment to great leadership is clearly to see, she notes that her success stems from having a relentless focus on talent development, helping individuals unlock their real potential and creating high performing teams who can dominate markets. 'My main source of pride stems from streamlining our processes by working with technology and finance partners... while also ensuring everybody in my team has the tools they need to thrive in their roles'.  A great example of this is through the personal growth programme called 'Blazing my trail', which is available to everyone at Secure Trust Bank. Ciara explains that this programme is 'designed to help people understand their authentic self, build confidence and self-belief, plan career progression and take control to make it happen.' The dedication to great leadership has been paying off, with 99% of Ciara's team members stating they have a strong trust in leadership.
Being committed to the giving back to the community is something Ciara is passionate about, in both her work life and personal life. In her work life, Ciara is committed to addressing the gender imbalance within the automotive industry, she is doing this through being an ambassador for Everywoman. Ciara and Everywoman's values align as they are both champions for the advancement of women in business and work tirelessly on closing the gender pay gap. 'As part of my role at Everywoman, I mentor six women, a mix of those working V12VF and at external organisations.' States Ciara, and alongside this to address the gender imbalance, V12VF's motor finance department now boasts 57% of women in its motor team and 59% in its commercial team, far above the industry average.
In being nominated for the Barbara Cox Award, Ciara says that it shows 'recognition from my peers and colleagues that I am making a difference... embracing change, inspiring others and giving back' while also 'underlining the importance and truth behind the advice I've shared with others during 'Blazing my trail' to help inspire them to keep investing in their own development'.